by Glenn Mackie
Big Lake, Alaska
February 17, 2007
First, I'd like to point out that this was the first race I've done which requires you to record your credit card (for $200) with race officials to cover your potential rescue off the course. If nothing else, that should alert you to the remoteness and potential consequences of the race. The race website also has cold weather survival tips and links to surviving a spill into icy water, and states that, "February offers the most brutal environment an Alaskan winter can summon."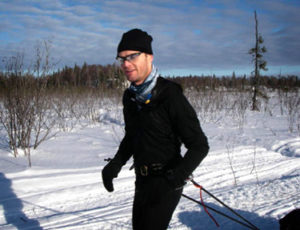 The race began and ended at a dog musher's facility about a 90 minute drive northwest of Anchorage, Alaska. The there was plenty of hard packed snow this year and the temperature at the start was a relatively warm 22° F. Later in the night, temperatures would drop to just below zero on part of the course. As per race rules, I had a minimum of 15 lbs of survival gear, which I towed behind me on a sled called a "pulk". The total weight of my sled, water, food and gear at the start was probably between 30 – 35 lbs. Rick Carr from NTTR, who would finish the Little Su 50K later in the day, was there at the start and we took some photos for posterity.
Living in Dallas, I had no training on snow and had never pulled a sled until arriving in Anchorage. Also, having never seen these types of sleds, I had no idea of how to build one. It took a lot of visualization to construct a comfortable, light and reliable sled to get me through the race. The only test I had of my design was when I towed my 4 year old around our living room once. Having gone 20 feet on carpet, I deemed the design a success and fit for 100 miles ;-/
For the first 3 miles of the race, I followed other runners while most of the other racers in the ski and bicycle divisions took off ahead. The race has three divisions – ski, bike, and foot. Snow conditions vary considerably from year to year making it sometimes impossible to bike or to run in regular shoes. After 3 miles I separated from the pack along with several other runners.
I arrived at the first checkpoint at 25 miles (Flat Horn Lake) after 4:40 and tied for the lead. The other runner (who eventually won) and I made a fast transition and headed back on the ice. He took the lead at about mile 30 while we traversed an area called the Dismal Swamp, just prior to crossing the Susitna River.
Much of the race course was either on or adjacent to the famous Iditarod dog mushing course. This was mostly a 5 to 10 foot wide trail, flat in sections and gently rolling in others. The flats were easy and fast with a sled, but the 'rollers' could be brutal as the sled, kept behind with crossed 5' ridged poles, would lunge forward while transitioning downhill. Towing the sled, obviously, used different muscles than running – muscles I never developed since I had no experience in this.
The next aid station at 46 miles (EagleSong) took another 4:13. I was just under 20 minutes from the leader, and aid station workers said we may have the 2 fastest splits ever on the course. I blasted out of the aid station set on catching the leader. Several miles down the trail, at dusk, I took a wrong turn and wasted much time getting back on course.
I arrived at the next aid station which was just past the midpoint of the race (Luce's Lodge) as temperatures were plummeting. I went inside the lodge and it seemed like an après ski gathering, with runners, skiers, and cyclists all taking a break and enjoying themselves. I had dropped to 7th place. I knew that if I sat down, I would tighten up, so I began to layer-up my clothing for the cold night ahead and got back out.
About 10 minutes out of the aid station , running down the frozen Yentna River, I started to heat up. My worries of hypothermia abated, and I pulled off the extra layers of clothing I had just put on and was back down to what I wore during the day when temps were 20 degrees warmer.
For those who've never experienced a cold weather run, if you keep moving, you don't need as much clothing or get as cold as you'd think. At zero degrees F, I was comfortable in tights, poly pro sleeveless and long sleeve shirts, vest, balaclava and a lightweight cap. I wore my regular trailrunners and Smartwools (which were wet the whole time) and my feet never once got cold or blistered. I also wore gloves and inserted chemical warmers inside them at night.
I arrived at the 75 mile checkpoint (Flathorn Lake) having moved up to 4th place. I did another fast transition and headed out. It was always tough to leave the warmth and comfort of these aid stations for the frigid outside. After a short section on the lake and a river, I was back on the dreaded 'rollers'. I thought for sure my back would be killing me after the race with all the jerking on my waist belt from going up and down on what amounted to ski moguls that went on for miles. The race began to wear on me here and the hard running I'd been doing for the last 18 hours along with the tedium of staring at a patch of snow lit from my headlamp started to slow me a bit.
After another checkpoint at 87 miles (Little Su), it was 13 miles to go of very nice trail back to the dog musher's facility and the finish. I felt good through this section and kept a solid pace. I finished in 24 hours 21 minutes in 3rd place. I ditched my sled and went straight for the warming hut. Even in the warmth of the hut, I began shaking from the cold since I wasn't moving anymore and creating heat.
I had carpooled to the start from Anchorage with some other runners who were now 8 hours behind me. While I was pondering the possibility of sleeping 8 hours on the floor of the warming hut, a race official came in and asked if I'd like a flight back to Anchorage. What a deal. I rode with the race rescue pilot in his Cub, equipped with skis for landing gear, from an airport near the finish back to Anchorage, then driven to where I was staying!
Coming from Dallas, I was a bit of an outsider up in Alaska and perhaps an unlikely finisher had it not been for the perfect race conditions. Race organizers and volunteers, however, treated me with the warmest hospitality. It's a race like this where you feel part of a group and everyone takes a personal interest in how you're doing.