By Deborah Sexton
Provo, Utah
Saturday, June 7, 2003
As I anticipated, this was the hardest race I've ever done. I now have a new benchmark to top the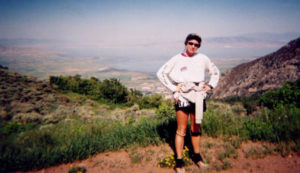 Bandera 100K, which previously had been my toughest event. The hills in Bandera are bumps compared to Squaw Peak. And the rocks on the Bandera course were pebbles compared to the specimens I skidded and slid down in Utah.
The race started off like any Texas road race with about 3 miles of nice, smooth, flat pavement. Then we started on the trail which was a gradual climb. Then you hit the first "hill." Imagine 30 to 40 minutes of climbing a ladder and you can get an idea of what it was like. But the footing was dirt trail so not too bad if you were able to breathe normally at 8,000 feet.
The middle of the race was up and down with a few steep short places and a few steep down hills. Then I hit aid station 8. This was the last aid station where you had the option to drop. After this point, if you wanted to drop, it meant walking to the finish because there were no roads for a car to access and drive you back. It's a good thing they put this aid station before what I will call Hell Hill because just looking up at it would be enough to make you decide you were done.
It ascends for about a mile straight up and counting all the times I had to stop, bend over, and try to suck a little air into my lungs, it took me about a hour to do it. Every time I thought I was at the top, I would look up and see there was still a ways to go. This was not a trail, but a route marked with little orange ribbons. In some places, you could see the footprints of those who had gone on before. So I just keep looking for the next ribbon. For the grand finale, at almost the very top, my shoe got caught on a big root and I went face down in black, fine, powdery dirt. So I looked like I had just come down the chimney. Not hurt at all, just had a nice big mouthful of Utah mountain. Yum Yum.
At the top, the reward was to get to go down a pretty steep downhill covered with loose rocks. Since my knee does not like downhill, I almost wished I was back on the mountain. I made it to aid station 9 and then started a 6 mile length of downhill on mostly loose rock covered trail. My knee was loving this!
The big excitement of the race was when I was on this 6-mile stretch with two other guys. They both stopped to take a leak and suddenly a huge deer came down the mountain, leaped between us across the trail and continued on down the decline. Whew, those two guys were pretty surprised. One of them thought a boulder was falling but of course was not able to turn around and look.
Anyway, I finished in 16 hours 32 minutes feeling much better than I had in the middle of the race. I had so much fun. I met lots of very cool people on the course and the volunteers at the aid stations were awesome. And you will never see views like this in Texas. It was incredible. We even ran through a couple of patches of leftover snow.
The goal was for me and Shawna Brown to run this together but what we quickly discovered was that I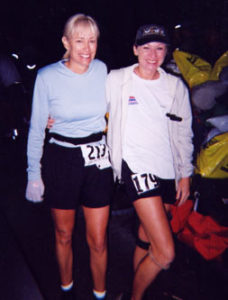 was faster going uphill and she was faster downhill. So I went ahead on hills and she caught up and then passed me. She beat me to aid station 8. You had to get there by 2:30 p.m. or they would pull you from the race. I made it by 2:20 p.m. and found her there getting blisters patched up. I left her behind ascending Hell Hill and we finally met up again at the finish. At aid station 9, she told one of the radio guys to call ahead to aid station 10 and let me know that she was going to kill me at the bottom for getting her to do this. Thank goodness she was too tired to do that when she finally finished.
Shawna and I were in the last five to finish and the volunteers held up a yellow ribbon for us to run across. There was much clapping and cheering and picture taking. I ran the last 3.5 miles, which is back on the nice smooth road, with a 60-year-old grandmother of 10 who is doing the Mohican 100 mile in two weeks. How inspiring. We had a great chat, which passed the time quickly.
Next up: Vermont 100 miler July 19th!
See ya,
Deborah