by Marshall King
November 8, 2008
Today was the second race in my "Race Against Prostate Cancer" series: the Rockledge Rumble 50k. As I wrote previously, I've done this race four years in a row (four 50ks, one 30k). I've never run the 50k (always walked in the past) so this was something new. The course is the rugged and challenging North Shore Trail at Lake Grapevine. I didn't have a firm goal, but I thought I might be able to finish under 6 hours, an 11:36 pace. As you will see, that didn't happen.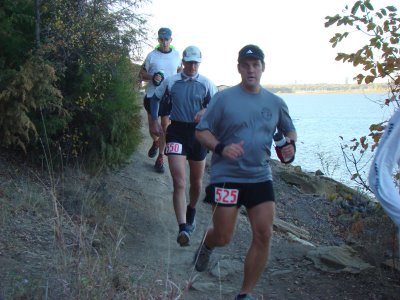 First I headed to the last training for the Team in Training group I coach. Next weekend is our last event of the season, the San Antonio Rock N Roll Marathon. After saying hi to everyone I drove down the lake to the start of the Rumble. I picked up my packet, visited the bathroom several times, then met two new friends from Twitter, rawdomer and triboomer. Rawdomer was running the 50k; triboomer had to skip it due to an injury but came down anyway to meet up and hang out.
After some announcements we lined up, Race Director Tom Crull counted down to the start and we were off. I could tell from my Garmin that I was going too fast, sub-11s, so I slowed down several times. After a short section on asphalt road we hit the trailhead and started running on the trails. I was able to keep my pace between 11:00 and 11:20 without much effort and stayed in that zone for a while. The first third of the run was uneventful. I slowed down on the last section of the trail before the first turnaround, but that section is the hilliest so I wasn't concerned. I wouldn't have to run it again so I just did my best to walk the uphills and run the downhills without pushing too hard. I was eating Caramel Power Gel and new PowerBar Gel Blasts. I really like the flavor and the texture; they are not too sweet and don't make me sick to my stomach.
For the Rockledge Rumble you run about 9.5 miles out, then turn around and run back; then you run about six miles out on the same trail, then turnaround and head back to the start. This gives you a great chance to pass everyone, see friends and cheer them on . I ran the 9.5 miles back and could feel myself getting tired but I managed to stay pretty steady on this leg, but slowing a little. My pace was slipping, and I was pretty sure I wouldn't finish under 6 hours. So I adjusted my goal and decided to try and finish under a 12:00 pace.
I ran up the brutal steps to the start/finish area, grabbed a small donut and some chips, refilled my bottle and then headed back out. This last out and back, about 12 miles, was going to be tough. I had no significant pains, no blister hot spots, no problems other than being tired. This is a common problem in my distance races so I think I'm doing something wrong, either training wrong, going out too fast, or not fueling properly. I'm tired of having to walk so much so I'm going to try to figure out what is going on.
I did a lot of walking on this leg and saw my 12:00 pace slip out of my grasp. At this point I gave up all goals except to finish. I tried to run whenever I could but I just didn't have enough energy to run for long. Even though I was walking up the hills they were very taxing and it was difficult to muster the energy to run down the other side. But I kept at it, just moving forward. Somewhere in this section I stopped at an aid station and drank some HEED, an energy/electrolyte drink popular with ultrarunners. I don't really like HEED, and after I drank it I remembered why. After leaving the aid station I felt nauseous and had several bouts of gagging/dry heaving. I never threw up, thank goodness, and the heaving made me feel better. But my stomach felt hard and uncomfortable, which was no fun. It made it hard to run.
I finally reached the last turn around, meaning I had about 6 miles left. I was still walking a lot but I managed to run a little more than I expected. I was passed by two people and I ran behind one of them for a while, using him as motivation. Eventually he pulled away and I was on my own again.
I was again able to see all of my friends on the out and back, which was great. Everytime I saw rawdomer he looked great and fast. He was way ahead of me and ended up finishing in 5:33!
Finally I was getting close. I realized if I ran more I could finish under 7 hours, so 7 hours became the new 6 hours. I ran more, ignored my fatigue, got to the steps at the finish and sprinted up them as best as I could. My unofficial time was 6:55:40. RD Tom Crull gave me my finisher's award, a very pretty ceramic "medal" on a leather cord, and a bottle of "Rock and Guts Ale" microbrewed and bottled specially for the 50k finishers. My bottle is in the fridge and should be cold by now.
After I got a bottle of water and grabbed a seat rawdomer came over to congratulate me. He had hung out for about 1.5 hours to see me finish, which I thought was very cool! I needed to pick up my dry cleaning and get ready for a trip tomorrow so I didn't hang around long.
So I had a frustrating race, but I'd rather be out on the trails pushing myself than sitting around doing nothing. Clearly I've got some issues in my training and racing that need to be resolved. I'll use this as a learning opportunity and figure out what I need to do differently.
And that's the end of my report.
Best of all, this race raised $101.70 for the Race Against Prostate Cancer! That's on top of the $1,334 that you guys have already donated. Knowing that every mile, no matter how slow, was going to help battle prostate cancer made the entire day a huge success for me.
Thanks to everyone for all the support. My next race will be in early December: SunMart 50 miler. I'll post additional details as we get closer to the day.