by Marshall King
April 22, 2008
Well, this weekend I raced in the Ouachita Trail 50 mile race in Arkansas. I tried my best, but it wasn't my day. First of all, no one told me that we had to climb a small mountain – literally. We ran about 2.5 miles on the road, then got on some nice trail. After about another mile, we came to Pinnacle Mountain. We had to go over Pinnacle Mountain (about 1,000 feet – certainly no Everest) by climbing the rocks straight up. I had to use my hands and feet to scale these huge boulders (several times I put my water bottle in my mouth so I could use both hands). There was a photographer at the top documenting our ascent. Then we had to pick our way down the other side. You can see the course profile from my Garmin (although it is incomplete because it lost signal many times during the race, sometimes for about a 1/4 mile or so):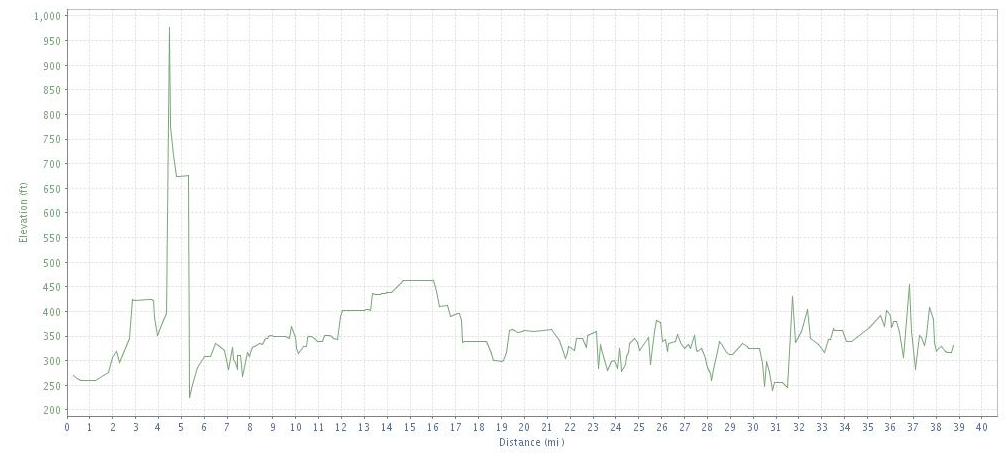 After that it was lots of rugged trail and mud – tons of mud puddles. I must have run through at least 50 mud puddles. And there were unavoidable water crossings, too – two of them were up to my knees and I had to use a chain strung across the creek to cross.
I made it to the first race cutoff at 9:45 – about 45 minutes ahead of the cutoff.
There was one stretch of the race that had no aid for eight miles except some water dropped about 3 miles in. I had two water bottles with me – I drained one but made the mistake of not refilling at the water drop. I got more and more thirsty but didn't want to drink the sports drink that I had in my second bottle. I thought I was almost to the next aid station so I never drank from that second bottle – stupid decision. By the time I got to that aid station (mile 24) I was so thirsty and dehydrated that nothing sounded good to eat. I refilled both of my bottles with ice and water in one, ice and sports drink in the other. But the sports drink didn't sound good – I was on the edge of nausea. I headed out of the aid station quickly because the second race cutoff was at the next aid station. I made it there (mile 26.2) by 12:24 and the cutoff was 12:50, so I was doing OK on time but not great. However, I was having trouble moving fast and knew I would have a hard time finishing by the race cutoff, 13 hours. I ate a little bit here but still didn't feel great and also had trouble eating because I wasn't producing enough saliva to eat with – I had to spit out some food I couldn't swallow (TMI).
I kept going and had to refill one or both bottles at every aid station (the weather was about 48 at the start and got up to the low-80s). But I still couldn't eat. And that's what killed me. I kept getting slower and slower. I passed the final cutoff at about 3:18; the cutoff was 3:30, so I had lost a lot of time. I had to stop three times to get dirt and mud out of my shoes and socks – it was stuck to the bottom of my foot and felt like I was walking with a large rock in my shoe. I also missed a turn and lost about 10 minutes finding my way back to the trail.
Sometime during the next leg a guy passed me. He looked like he was in his 50s and looked very fit. He was running pretty well. By this time I was doing 20 – 25 minute miles according to Garmin and I couldn't muster any energy to run or even walk fast. I was even having trouble walking the uphills at that slow pace. I finally decided I had to drop. If I couldn't eat then I couldn't pick up the pace, and I would be way past the final cutoff. I kept trudging along because I had to make it about 3.5 more miles before I could drop. A little bit later I crested a hill and found the guy that had passed me sitting beside the trail with his head in his hands. He ran past me because of a brief burst of energy he got after eating some boiled potatoes and drinking some Mountain Dew. But it hadn't lasted and he had crashed hard. He got up and we walked into the aid station together and announced we were dropping. There was one more guy behind us and he came in a few minutes later and dropped, too. My unofficial time was 11:23 (a 16:15 pace, very slow!).
We were at mile 42.1 and had an hour and 37 minutes to go 7.9 miles before the race cutoff. Under normal circumstances that should have been no problem. But these weren't normal circumstances.
This race had a unique option – at mile 15 you could decide to switch from the 50 mile to the 50k race. The two friends I went with both switched to the 50k and finished. I could have done that, but in the end I'm glad I opted for the 50 miler. That's what I had set out to do and that's what I intended to attempt. Every time I race (and screw up) I learn something new that I can incorporate into my training and racing. My big problem is my stomach – I never get sick or throw up, but I have trouble eating and I get dehydrated (I've DNF'd twice in 50 milers, both times due to dehydration that led to a calorie deficit).
Anyway, that's my story. On the way home my friends bought me a pedicure (my first one) and it felt great! Miraculously, even though my feet were wet for about 10 hours, I didn't get any blisters at all.
If you made it all the way to here, thanks for reading.