by Rick Carr
Big Lake, Alaska
February 17, 2007
My infatuation with trail running began when I ran the half marathon at Grasslands in 2003. I ran this race as a training run for the Buffalo Springs Half Ironman that I would do in June of that year. I realized then, as I enjoyed the varied and rugged terrain, that this would not be the last time the trails saw me. For over a year afterwards I lurked at the NTTR website imagining what it would be like to run the various trials listed on the calendar. I believe it was there that the Susitna 100 first caught my attention.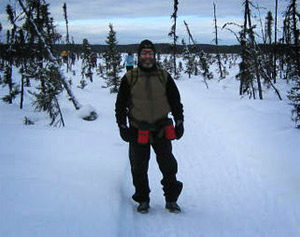 It is hard for those who do not belong to the trail running asylum to understand what it is that attracts us to the trails. In my bio I listed several reasons for ultra distance running on the trails, including the beautiful places you get to run and the camaraderie. The first speaks for itself – wooded single track trails, views of the occasional white squirrel, snakes with legs, the mountains, the sky, the natural and diverse vegetation and the man eating spiders of Northshore. As for the camaraderie trail runners are the best. As anyone who has done any road races can attest the people on the trails are much more relaxed and fun to be around and some like Ferd, Tom and Jay have been around for a real, real, long time; I hope I am so lucky.
When I first saw the Susitna 100 I was already imagining what it would be like to complete a 100 mile trail run. I am still dreaming about that. One other lure of running trails is the personal challenge of going the distance; the challenge of meeting yourself on the trail and making your peace, continuing to the end, not giving up. This is no trivial matter as anyone who has done an ultra distance race can attest; even though we all meet ourselves at different places in each and every race.
I suppose it was a mixture of all three, the views, the people, the challenge, which is how Susitna cast its spell on me several years ago and secretly drew the cords tighter until this year I was won over. What other rationale can be offered for running an ultra distance run in Alaska, in the snow, in the middle of February?
Susitna offers two races; a 100 mile race and a 50K. The race is open to three disciplines; mountain biking, cross country skiing, and running. At first glance it may seem the bikes or perhaps the skis have unfair advantage over the runners but the weather and snow pack varies considerably from year to year. This year was a good year for the bikes but last year it was raining and the bikes suffered.
Most of the participants of the Susitna are from Alaska but there are also people from the lower 48 as well as some from around the world. I met Paul Lester, a mountain biker, on the plane coming in from Seattle. He was doing the race for his 16th time and would finish this year in just over16 hours. Paul is from Australia. I also met a woman from Ireland. But it was especially good to know I was not the only Texan running. How strange it is that I had to go all the way to Alaska to meet fellow NTTR member, Glenn Mackie. That either speaks to Glenn's quickness or my turtle pace. Either way it was great to meet Glenn.
My wife Kim, who went with me to make sure I did not get eaten by a polar bear, and I went to the pre-race meeting on Thursday night to see if I could glean anything about the course. I gleaned that I was glad I was only doing the 50K. I had earlier been foolish enough to wish it was 50 miles; I would have opportunity to be foolish again. As I said most of the participants were Alaskans and it seems many were veterans of this race. The race directors, Wade and Rita Brooks were great and all the race volunteers were fantastic.
This was not your typical race with aid every 4 to 6 miles. The only aid station I would have as a 50K entrant was at 12.5 miles (and 18.5 miles on the way back in from the turn around). The aid consisted of hot water boiled down from snow. This aid station was not open for the 100 milers on the way out; they would not see aid but every 20 to 30 miles. The 100 milers were required to carry specific provisions including a -20 sleeping bag, bivy sack, pad, food, and a means to melt snow into water. Most carried these provisions on a sled that they pulled behind them. I would carry a small backpack with food, water in insulators, extra clothes, my lights, etc.
As much of the race was run on the Iditarod trail (I believe all the 15.5 miles out and back of the 50K race was) there was a good likelihood that racers would encounter mushers training for the Iditarod dog sled race which would start two weeks later. Therefore all racers were required to wear a flashing red light on their backs to alert the dog teams of their presence.
Once I committed to the race I began to worry myself about proper gear. With several very helpful email correspondences with Rita Wade and some help from a coworker who plays on Mount Washington in New Hampshire during the winter I was able to put together the right clothing the expense of which demands I must return several more times to extract the full value. This should be no problem since Kim seems to have fallen in love with Alaska and I have an itch to return and someday even be crazy enough to try the 100 mile race. That will not happen until after several more 50K finishes with much better times however.
The weather in Alaska for almost the whole week we were there was just perfect. It was sunny to partly cloudy every day but one. Temperatures were typically about 25 in Anchorage and about 5 to 10 degrees cooler in Wasilla, about an hour northwest of Anchorage. Who can ever get used to the views? What an awesome experience waking up to almost 360 degrees of snow capped mountains easily seen from anywhere in the city. I could hear them calling me to come and play! I could not wait for race day.
The day before the race it snowed all day; a light snow accumulating about 3 to 4 inches. Here is where I had the chance to be foolish again. Remembering how much fun East Texas was a few years back on Valentines Day when we woke up to snow and ran in the snow, I thought it would be fun if it was snowing when we ran Susitna 50K. Only after I had run the first 2 miles of the race in loose packed snow and perceived the difficulty this added did I realize that it is not always wise to be romantic.
I arrived at the start early because I wanted to finally meet Glenn and wish him luck. The race start was at the Aurora Dog Musher's cabin where I would pick up my packet and where you could warm up before and after the race. After meeting Glenn and seeing him off I went into the cabin to warm up my feet. I was a little worried because standing around my feet were getting cold. I was wearing my Montrail Hurricane Ridge trail shoes. These seemed a good choice because they are GoreTex material configured with a stretch fit tongue. I had sprayed extra water repellent on the shoes before leaving home just to ensure hermeticity. In a few minutes around the wood burning stove my feet were warm and the rest of me was crispy. The stove was red hot! I met several runners who would hoop and holler at the crazy Texan later that day.
It gets light around 8:30 in Alaska in February. The 100 mile race started at 9:00 am and the 50K race started at 11:00. From Aurora Dog Musher's to 7 Mile Lake was about 2 miles. This part of the race is across frozen marsh land. The snow here was the most difficult to navigate of the whole 50K course. It was about 3 to 5 inches deep (on top of who knows how many inches of hard packed snow) with a hard crust that would not support your weight and would punch through with every step. It helped little to try to run in the footsteps of those ahead of you. It simply was not possible to get good traction. It was very much like running in very dry, loose sand of the same depth.
I was dressed with thermal underwear both top and bottom. On the bottom I also wore a wind break/water repellant shell. On top, I wore a 200 grade fleece long sleeve jacket made of PolarTec material. On top of that I wore a vest which was filled with PoarTec simulation down. I wore a Mountain Hardware cap which covered my ears and PolarTec gloves. I was going to wear goggles but they quickly began to fog so I took them off and stowed them.
In my pack I had another thermal underwear top, a PolarTec 200 fleece vest and pants, a wind/water resistant top with a hood, a balaclava, and some heavy duty mittens. I carried two 20 ounce Nalgene bottles with wide mouths upside down in insulated carriers. The water was hot to start but quickly cooled off. It was just above 20 degrees to start and would get up to maybe 25 and be mostly sunny all day with very little wind. One could not ask for better conditions for this race.
Once we arrived at 7 Mile Lake the running got a little easier. We ran across 7 Mile Lake and into the forest. The trails through the woods reminded me of the Christmas song, "Over the Hills and Through the Woods, to Grandmother's House We Go." It was a magical sight. This is why I run; this is what I long for; this is the stuff of dreams. I kept my eyes peeled for a sight of a moose but was disappointed to not see one the whole trip. I was in the woods running up and down some small, rolling hills for about two hours before breaking out into an open snow field and then back into the forest this time with some more difficult climbing over a rather large hill.
As I was coming around a bend and starting up a slight grade I encountered a dog team pulling a sled and its seemingly mummified musher. These dogs, about 12 to 16 per team, are eerily quiet. You can not hear them as they pull the sled until they are close enough for you to hear them panting. I was fortunate that all the teams I encountered came at me from the front. I encountered two teams at night when I was in the woods. It was pitch black except for the tunnel of light cast by my headlamp. Then suddenly out of nowhere 16 sets of yellow and green eyes appear bobbing like fireflies in the dark. For a second all you see is the eyes and you know what it is but the dogs and the sled are lost in the blackness of the night. I step aside and yield the trail.
Stepping too far aside as, when you have to take a bio break means stepping into over a foot of snow and sinking to your knees. After several such experiences I surmised the yellow snow in the middle of the trail was not solely from the dogs.
I finally reached the 12.5 mile aid station at about 2:30. I had been running for 3.5 hours and felt very good. I was warm and had even taken off my vest and stowed it in my pack and occasionally would remove my gloves. A woman rode up on her bike and said she had been following me for sometime and had something of mine. It was part of a flashlight that I had hooked to the outside of my pack. It had unscrewed and the light and batteries had fallen out. I thanked her and reloaded my water bottles with hot water before continuing.
The next 3 miles would have the most difficult hills for the 50K race. Indeed for the next 2.5 miles it would be all up and down. The hills were not all that high but they were snow covered; much of the top snow now loosened by the early morning traffic. Some of the hills were quite steep and difficult to climb but overall, I would say not any more difficult than the hills at Bandera or the muddy hills of Cross Timbers.
I crossed the Lil Su river and then up over the last hill or so before a stretch of flat trail just about half a mile from the Nome sign; the 50K turn around point. Were it not for the way the trees lined the river you would not be able to detect that you were crossing over frozen water covered with packed snow.
I shortly reached the Nome sign and punched my bib card and headed back to the 12.5 mile aid station. I was running behind two women from Alaska and I heard them yelling in fun as they crossed the frozen Lil Su for the second time. I caught up with them at the aid station; Alycia and Jeannie both from Anchorage. It was Alycia's second time doing this race; her husband, a veteran 100 miler, was also out on the trail. This was Jeannie's first ultra; indeed it was her first long distance run.
The women left the aid station before I did but within a few miles I caught up and passed them. After a few hours I made my way back over the big hill and through forest back out into a large snow covered meadow. It was nearing dusk. To my right was a beautiful scene; a lone cabin in the midst of the pines with smoke gently drifting up from the chimney, yellow light illuminating the vacant windows. It was quiet, only the muffled sound of snow crunching underfoot. I was alone and at peace.
In Alaska this time of year the sun begins to set around 3 or 4 pm and takes about 4 hours to completely set. This makes for some very interesting visual images; in about 2 hours the moonless sky would be blood red on the horizon while overhead it would be pitch black punctuated with very bright stars.
As I made my way to the far side of the meadow I heard Alycia and Jeannie yelling again. I turned and saw in their headlamps in the distance. I figured they were just having fun so I continued on. By this time my pace was pretty much reduced to a fast walk. Once again I entered the forest and began to climb as it became very dark. I observed I was still very warm; I had put my vest back on at the aid station. I checked the time and figured I would probably be back to the start/finish sometime between 8 and 9 pm.
I was going pretty slow and this would not be a PR for me but this did not matter. I was excited to be here and I wanted to run in the dark, in the snow, in Alaska; what a great experience! What stories I would have to tell my grandson!
It was not long before I heard Alycia and Jeannie yelling again as I was slowly making my way up a long hill. I stopped and replied, asking if they were calling for me and if all was well. They were calling for me so I waited for them. They came around a bend and up the hill and told me they did not want to run alone at night for fear they might run into a moose. I told them I was happy to have company but they would have to go a little slower than they were if they wanted to go with me. They said they were only going fast so they could catch up to me. Jeannie had developed blisters from the sheet metal screws she had put in her running shoes for traction. I also told them if we encountered a moose I was going to get a picture. They probably thought I was crazy, a thought that may have seemed to them justified when they found out I was from Texas.
We continued on for another 2 hours or so walking briskly and talking and bathing in the light of the stars overhead. Tonight was a new moon so the stars would afford all the light besides our headlamps. The air was perceptively colder. My breath now was freezing on my beard and the wetness of my eyes was beginning to freeze my eyelashes together. My PolarTec 200 fleece jacket was beginning to frost over from the sweat; the cold, moist air of the night resisting evaporation. My feet were still warm but I noticed a little wetness in the toes. I knew I only had another hour or so to finish and was certain my clothes would keep me warm that long but I knew also if necessary I had dry clothes in my back pack.
Running with a back pack was a new experience for me. For some time now I had been getting a pinched nerve in my right shoulder, neck area when running long distances. I still have not been able to find a solution this problem and after passing the aid station the second time the pain started up again. This time however I also had some lower back discomfort because of the extra weight of the back pack. In time however the pain is forgotten as the mind moves on to consider other things.
We made our way back across 7 Mile Lake and back through the last 2 miles of crunchy, loose snow to the Aurora Dog Musher's cabin to a completion time of just over 10 hours. It was 9 pm – for me it was midnight; Alaska is 3 hours behind Texas time. It was near 10 degrees by the time we were finished. We too pictures and picked up our finishers awards and sat in the cabin to warm up.
I made my way back to the hotel and met Kim in the restaurant for a snack and something warm to drink and sat quietly, rather happy with myself and dreamed of the stories I would tell Caden when he was old enough to understand. I am glad I am a trail runner! I am thankful for the gifts I have been given! I look forward to meeting myself again, in the future, in the dark of night on a cold, snow blanketed trail in Alaska, if I am so blessed!
Rick Carr
P.S. Glenn Mackie completed the 100 mile in just over 24 hours. Susitna 100 affords racers 50 hours to complete.