by Lynn Ballard
Lake Hughes, California
April 21, 2007
"But those who hope in the Lord will renew their strength. They will soar on wings like eagles; they will run and not grow weary, they will walk and not be faint." – Isaiah 40:31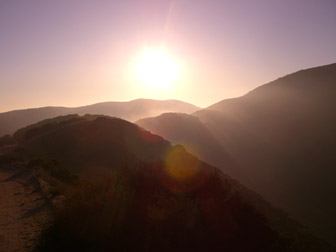 more photos available at nttr.smugmug.com
I had been eyeing this race for a while and finally the stars lined up for me to be in Southern California on business, so I made plans to stay over and run the Leona Divide 50 Mile race. It seemed like a great idea, just stay over one night, run the race and to catch the red-eye flight back home to Dallas in time for Church…for the most part, it was a good idea!
The Leona Divide 50 Mile race has been run continuously for 16 years, including one year the trail and surrounding service roads were damaged by fire and flood and a handful of die-hards ran it in spite of the forced Forest Service closure. The race covers 16 miles of dirt roads in the Angeles National Forest and 34 miles of the Pacific Crest Trail. With 9,000 feet of quad-busting climb and descent, this course provides a real challenge to those of flat-land persuasion like the author. Glenda Kimmerly and Don Hughes, co-race directors, and their band of volunteers put on a top-notch race, leaving ultra-wannabes and ultra-veterans wanting for nothing.
Upon the conclusion of my business in Azusa, I made the drive to Lake Hughes, located the race headquarters and proceeded to check out my secret find…a Lake Hughes hotel called the Rock Inn. It seems my secret find turned out to be a few bedrooms atop a biker bar, one that featured live (read: loud) music well into the morning.
The rooms were clean however and the bathrooms were only a few doors away, so I settled in and made my way back to race headquarters for the pasta-fest and race check in. I received a nice hooded sweatshirt with the race logo, chatted with a few other's while stuffing my face, then made it back to the biker bar for a few songs from a live act (local, I'm pretty sure), featuring "I'm Drunk Again, At The County Fair". About 9 pm, I decided to finish my pre-race preparations and hit the sack, resting quite comfortably and only waking up when the bar closed and it got quiet…then fitfully for the rest of the night.
I was up early and managed to get all my race essentials over to the community center where they were serving coffee and breakfast snacks. I found a seat and greeted the rest of the runners who had come to test themselves against the course, seeing a few faces I had met the night before and meeting some more new friends. The hour and a half I waited felt like a few minutes when someone came through with a large circular saw blade and a hammer, clanging them together to gain the attention of all the warm runners to announce "RACE STARTS IN 10 MINUTES, AND I DON"T CARE WHO'S IN THE CRAPPER!". We reluctantly begin to shuffle out into the cool, damp California pre-dawn air and down to the starting area.
Straight up six o'clock the hammer and saw clang together again to mark the start of the race. I make my way to the rear, as the trail narrows a bit before opening up to 16 miles of dirt road, the first 3 miles of which will take us up about 1,000 feet. I had been really intimidated by the climbs in this race, but quickly settled into a nice pace, stopping here and there to take pictures. Before I knew it, the climb was over and I found myself in a comfortable running pace and moving well, first passing a few runners, then stopping to snap a picture, then repeat…
The first aid station was a little over eight miles, but due to the pleasant morning and good running surface, felt much closer. We found good ultra-running fare and friendly, attentive volunteers and were back on the road, yet another long climb up to the second aid station at mile 13.4. One of the volunteers commented on the fact that she had seen a lot of runners in white shirts (I was wearing white…) to which I replied…"White…It's the new black", demonstrating my fashion sense. More refreshments were consumed and we were on to single track for the rest of the morning. While the dirt road had a lot of up/down sections, the single track did a very nice job of following the contour lines until time to drop back down to the canyon floor, where aid station 3 (mile 20.3) and another highway crossing waited. I felt great and was moving well, passing a few runners here and there. The mood was light along this section of the trail, with many a whoop and holler noted. I checked my watch and noted something like 3:42…I felt there were three scenarios…1) I went out waaaaay too fast and was going to crash and burn, 2) there was no way this was really 20 miles and 3) I was having a good run. Let's go with #3.
Right out of the third aid station, we began another almost 1,000 ft climb. Again, I was comfortable on this climb, still overtaking a runner here and there. Once I gained the top, off on an easy pace enjoying the single track again, very smooth footing for the most part, noticeably free of rock and root, unlike the technical trails I have been training on. I realized I didn't have to concentrate too much on footing and could just run, staying focused on the race. Once we hit aid station 4 at mile 24.5, we had come almost full circle back to the point where we started and began an out and back where the real test would be proctored. Over the next few miles, we dropped 1,000 ft to mile 28 and aid station number 5. We would see this one again, but not until mile 42.6 and about 7,000 ft of elevation change! I made good use of the can of chicken and rice soup I stashed, checked my liquids and started up the biggest climb on the course…was I ready for this? The next section moved up 1,500 feet in the course of about 2.5 miles. I worked hard to hold a steady power walk, but was overtaken by a few others with better legs. This climb took a lot out of me, and it took me a while to recover even after the climb ended. This is also where we met the leaders coming back from the turnaround, they were at about 41 miles to our 29-30. The top three runners were about 2 minutes apart, with Jorge Pacheco 90 seconds behind the leader. Jorge would prevail, finishing in a little under 7 hours, well off his winning pace from last year's race. We also met up with the women's leader, Krissy Moehl, running in about 6th overall and well ahead of the next female contenders. To each of these, I greeted with a cheer and each returned a smile and a "thanks, looking good" (liars, every one!).
The next section was pretty runnable, lots of small ups and downs that took their collective toll. Another few runners slipped by me on this section, one of whom was a new ultra friend, Greg Hardesty of Orange County. At the pre-race dinner, Greg and I had shared our desire for sub-11 hour races, both too unsure to make any predictions. This was Greg's second 50 mile race, one he would use to improve his PR by almost two hours, finishing in about 10:15, way to go Greg! Greg, a writer, blogged about his Leona Divide experience here. I plodded on, noting that I didn't feel bad enough to walk or to run slowly, so I focused on keeping a pretty good pace. Not too much later, I found myself moving through the remaining aid stations and at the turnaround point. What a lift, I'm heading home! I took more soup on the return trip through aid station 7 and got a real boost from the calories.
I pushed hard back to the big drop before mile 42, and I literally crashed the downhill, having a lot of confidence in my quads and feeling quite sure of a sub-11 hour finish. The team back at aid station 9 welcomed me in and I pushed a few more calories from a bottle of Ensure I stashed and started the last big climb of the course, another 1,000 foot up to mile 47. It was here I caught back up with Lisa Conover (who passed me on the big climb out of mile 28) and we discussed our chances of reaching the finish by 10:30. Lisa, looking fresh as a daisy, encouraged me to go for it and assured me she was "too pooped" (strong mid-western accent). I was greeted warmly by a bevy of onlookers and RD Glenda as I crossed the line 10:27:25 (by my watch, haven't seen official results). Lisa came in a few minutes behind, sub, 10:30!
Leona Divide is an awesome race and is well run, many thanks to Glenda and her troops. This race was a big step in my preparation for the Bighorn 100 Mile run in Wyoming this June, as were the six other ultras I have run so far this year… you know, supported training runs. I intentionally came into this one with no taper, tired legs (74 miles 2 weeks before, 56 miles the week before and 38 miles the week of the race) and 21 consecutive days of running (a lot for me). I believe my preparation to date is going well and feel this race was good positive reinforcement of the hard work put in to date. I had several themes running through my head, a friend with a father near death… reminding me of my father's death and his love of horseback riding in the mountains and the scripture from Isaiah used in the opening (one of his/my mom's favorites).