by Marshall King
October 11, 2008
"The ultimate goal and the most satisfying reward is not how fast a runner goes but how well a runner manages his or her struggles to find the finish." ~Dave Bursler
On Saturday, October 11, fewer than 100 runners and walkers toed the line at the Heartland 100 and 50 mile races. Dubbed "The Spirit of the Prairie," the races take competitors across a beautiful and unusual landscape of rolling grasslands and prairies, cows, horses and grasshoppers, occasional snakes, the howl of coyotes at night, and more stars than this city boy has ever seen.
The family and I drove to Cassoday, Kansas, just northeast of Wichita, on Friday. We attended the pre-race briefing and picked up my race bib and packet, then headed to nearby El Dorado to buy some last minute supplies, get some dinner and get to bed. I was in bed by 9:30 and slept remarkably well.
Woke up at 4:00 AM, got dressed, drank coffee and ate donuts, then headed to Cassoday for the race. It was still dark when the race started so I used my flashlight for about one and a half hours. My goal in this race was to finish within the 30 hour cutoff so I established a very conservative plan. On flat terrain I would run nine minutes and walk one at a very slow pace. I would walk every uphill and run every downhill. By 7:50 I was at the first manned aid station, Battle Creek. On the way out this is the beginning of the worst hills; on the way back it was the end. I grabbed part of a turkey and cheese sandwich and drank some coke, then got ready to climb some hills. Here's a poor quality photo of the aid station taken from my cell phone: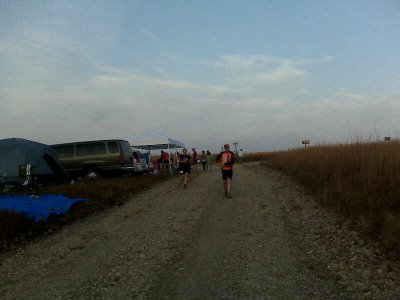 If you'd like some better pictures of the course, check out my 2004 50 mile race report.
I stuck to my plan and walked up all the hills. I kept moving at a decent (but purposefully slow) pace. I hit the next aid station around 8:50 and took a beautiful picture of the prairie hills: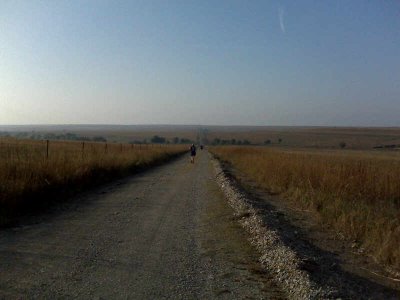 I got to mile 16.8 by 9:51. I was eating at every aid station, usually part of a sandwich or some boiled potato, and I was drinking coke. In between aid stations I was drinking water and eating Jelly Belly sports beans and PowerGel. My hydration seemed good – I was urinating more frequently than usual. I was worried about dehydration because the temps were supposed to be high, so I was more concerned than usual about hydration.
I hit 25 miles at 11:43 AM.
All of the next miles were pretty uneventful. I was maintaining a decent pace and doing OK considering the distance and the hills. By 2:36 PM I was at the Ridge Line aid station at mile 36.5. Since this is such a small race I hardly ever saw other racers – the only people I saw were usually at the aid stations. Here are two pictures of that part of the race that show how beautiful it is, but also how lonely: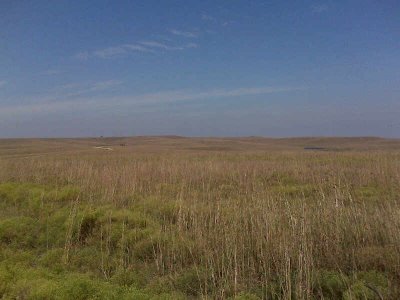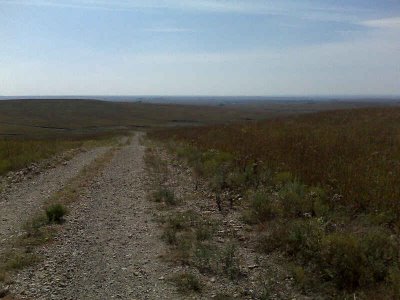 The batteries in my Garmin running watch only last about eight hours. I wore it as long as I could, and it really helped me stay on pace (not too fast, not too slow). You can see the map (and check out the hills on the elevation profile) here.
After leaving Ridge Line I started to feel nauseous. Not sure why, just felt heavy in my stomach. I walked most of the next section, up to the Matfield Green aid station at mile 42.5. At Matfield Green I again ate and drank a little, and I took two electrolyte tablets. That seemed to help a bit and I ran/walked to the 50 mile turnaround. At the turnaround I still felt a little weak and queasy. I ate some chicken noodle soup hoping the warmth and salt would help me feel better. I also took two advil (I try to take advil sparingly and usually don't take any until the halfway point of any ultra). Before leaving the aid station I grabbed some boiled potato, dipped it in rock salt and started walking and eating. Something about the rock salt didn't agree with me and I immediately threw up. Another racer there suggested I head back and rest a bit more. I was worried because if you throw up too much you won't have enough calories to finish the race.
I went and sat down and talked to the aid station volunteers and a racer who was dropping out due to foot problems. Remarkably, I felt better, as if I had thrown up whatever was making me queasy. I had a new attitude and felt more positive.
I should mention that throughout the race I was posting updates on twitter. Some people call it a "microblogging" site because your posts cannot be longer than 140 characters. During my time using twitter I have gotten to "know" a lot of other runners, triathletes, and other athletes, and this amazing group of people was following my posts and sending me words of encouragement throughout the race. It was so motivating and helpful. I kept my phone off to preserve the batteries, and whenever I turned it on I would get a barrage of encouraging messages. I was also getting text messages and twitters from my dad (even dad joined twitter!), brother and wife, a couple of coaches from Team in Training, friends from work. It was like I had my own personal crowd support on a course with no crowd! Just a couple of samples:
youre doing awesome! keep up the great work!
hang in there, man! you are doing great!
GO GO GO GO GO! You're doing great, and it's exciting to see & hear your progress on twitter.
dude, you're awesome. Hang in there
you're setting an amazing example for your daughter.
Remember – RELENTLESS FORWARD MOTION.
rock on brother rock on!
And after I threw up:
geez louise! are you crazy?
Dude, you are an ANIMAL!
you, sir, are the man! KEEP KICKING ASS!!!
think of all of us as a huge crowd around you cheering – we're there in your head!!
The next morning the messages started again, it was just incredible. I was thinking that the people on twitter are the nicest people I've never met!
I also received a message from an old high school and college friend through Facebook who told me that her brother-in-law had recently had surgery for prostate cancer. So many people have been affected, and that made me even more motivated to finish this race!
After the 50 mile turnaround it got dark. I was feeling pretty good and running a little more than I had been. I got back to Matfield Green and had a cheeseburger and some coke on ice (what a luxury – Ice!). At this point I just had to keep moving. At the turnaround I had over 17 hours to complete 50 miles. I knew I could do it if I kept my head together and kept eating and drinking. The early morning hours were the hardest of the race. I was so tired that a few times I was staggering along barely awake. No fewer than four times did I find a rock on the side of the road to sit on. I turned off my flashlights, put my head in my hands and took 3-5 minute "micro-naps." Twice I pulled into an aid station, sat in the nearest chair and fell asleep. At the Lapland aid station I overheard the volunteers talking, and one said, "So we have thirteen active runners still coming?" and another volunteer said, "Yes, and we have one not very active runner in the tent." I said, "I know, I know, I'm going." And I grabbed a bite to eat and headed out. At the aid stations I had more 1/4 turkey sandwiches, lentil soup, "prairie power pellets" (delicious barbecue beans), and at the last aid station two pancakes and a piece of sausage. And I was still hungry!
By now my feet were hurting, and I thought it was just from the pounding and the rocky course. It turned out that I was developing blisters on the bottoms of my feet right behind the toes, and one on the heel of my right foot.
As I left Lapland I knew that the worst part of the course was ahead of me. The hilliest miles are from Lapland to Battle Creek, and they are non-stop rolling hills. Here is a picture of some of them: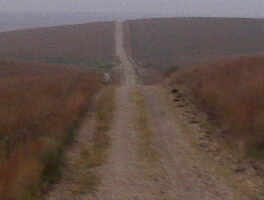 As I turned onto the road that heads to the hills I saw something strange on the side of the road. As I got closer I shined my flashlight over and saw that it was another racer taking a "micro-nap." I checked to make sure she was OK, told her I was glad I wasn't the only person doing that, then headed on (I saw her at the awards ceremony and she did finish the race). At 6:35 AM I had only 12.7 miles to go (by noon). I was really tired and having a lot of pain in my feet, but I felt good knowing I would almost certainly finish this race. I actually passed four or five people before the finish and was only passed by one person.
At 9:06 I had only 4.5 miles to go. My blisters were painful and I kept stepping on rocks that made it worse. But I was going to finish!
At Heartland you can see an old smoke stack at the start/finish area from about five miles away. So for the last five miles I could see the goal. Then I knew I was almost there when I had three more turns: right at the cattle gate, left at the pond, right at the paved road and then there is the finish. I mustered all the strength I had left and ran the final .75 miles to the finish. Race volunteers were ringing cowbells to cheer me in, and I could see my wife and daughter running to the finish line to greet me. The official finish line was a greasy spot in the road – I crossed it, kissed my daughter and collapsed into a lawn chair. 28 hours, 25 minutes, 21 seconds! It felt so good to be finished!!!
Here's a pic of me and my daughter at the finish: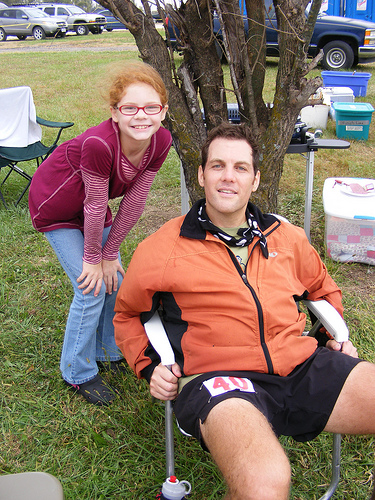 I got a ton of congratulatory messages from friends and family and all my twitter friends:
Wow! Way to go! At this, I think you need a beer or seven!
WAY to go!!! 100 miles in 28 and 1/2 hours. That is very amazing. You should be very proud of yourself as your Dad I'm sure is!!!
congrats, man. you are truly a hoss. way to go!
Excellent excellent excellent!!! Congratulations!!!!!
I can't thank everyone enough for all the encouragement. Running is such a solitary sport in many respects, but it's the support of friends and family (and sometimes strangers) that make it possible. I could not have done this without everyone's support and encouragement! I especially want to thank my wife and daughter for listening to all of my talk about pacing, shoes, gu, electrolytes, fueling strategies, etc., etc.
And special thanks to Dad for making this all worthwhile.
This race raised $327 in per-mile pledges, on top of the $1,189 that you guys have already donated. Thanks to everyone who has donated or showed your support through postings on your blog, facebook, emails to family and friends, etc. You are all helping in the fight against cancer! One race down, six to go.
Here I am holding my finisher's Belt Buckle: