by Lynn Ballard Palo Duro Canyon S.P., Texas October 18, 2003 Obviously, I don't know how to taper…less than 45 miles in the three weeks between my last long run and the PD50, the longest run just (forgive me) 8 1/2 miles. I am just finishing the second longest vacation of my career (8 days) and packing for the trip to West Texas. Let's see, tent…check, lantern…check, did I taper correctly?…check? Doubt is creeping into spaces that I haven't already packed. Everything I do seems to remind me that I am not ready for this! Who am I kidding? Am I really going to do this? I'm not a "REAL" runner, what am I thinking? But I've already told too many people I am planning the 50 miler, so I keep packing. I agonize about whether to take the Camelbak…it really helped me with time in the aid stations at the Flat Rock 50K three weeks ago, but do I really need it for this race. It's supposed to be 80 degrees and I need to carry water with me even though the aid stations are supposed to be no more than 3 miles apart…what to do, what to do? I remind my self that I've run dozens of races and that I should know how to pack…it doesn't help. Friday morning comes and I feel well rested. The suburban is loaded down with enough provisions for a small army and we (wife, mother and I) head west. After an uneventful drive (note: Nothing between Dallas and Amarillo but barbed wire fences, some of which have been blown down many years earlier), we arrive in Amarillo. No stopping here, we head on out to Canyon and the entrance to the Palo Duro Canyon. WOW! After miles and miles of nothing, some of the most boring stuff you can imagine, we find ourselves on the edge of this gigantic hole in the ground. I recall the propaganda I read earlier, this is the second largest canyon in the US (by some claims), ranging from it's north end 120 miles to the south, some parts 20 miles across. It is not as deep as the Grand Canyon, just over 800 feet deep, but still pretty impressive given the contrast of the nothingness surrounding it. I stop arguing about the location of our campsite when I am informed that the one I wanted is filled with Indian Princesses (the 10 year old variety). I can't help wonder why they would be in the campground directly across from the start/finish line of the race…Oh well. I realize that it doesn't look like they are ready for the pre-race pasta loading dinner that I have been anticipating, as the S/F area is deserted except for seven meleagris gallopavo (Rio Grande Turkey), smacking of protein, but severely deficient in carbs. It is now that I begin my experience outside my comfort zone. I slightly remember something in the entry letter I received (but failed to bring with me) about the pre-race dinner being somewhere not in the canyon. Hmmm…a quick call home to get someone to read the letter to me…no signal on the cell phone down in the canyon. I run into another camper who is also planning on running, and happens to have the letter. What? It is back in Canyon? It started 15 minutes ago? Ohhhhhhh Noooooooo! We quickly throw off the firewood at our campsite and rush back to Canyon and the much need carbs. Great dinner, great fellowship, but I am thinking all the time that we have not set up camp and we are going to get back how late and it will be dark then and … and… and… (you see, I'm still out of my comfort zone – which seems to be shrinking). I don't see anybody I recognize, but it is probably only because I am so rattled. I throw down dinner, grab my packet and race back to the canyon without speaking to anyone. A couple of hours later, going over my final preparations for the race, I sit quietly in my tent. I reach into my race packet for the first time and pull out my race number. There it is, staring me in the face…Number 50! I remembering the quote that Red Spicer, the race director shared with us…"You are better than you think you are and you can do more than you think you can do". OK, who's right, the voices in my head or Red? Is this my sign that I am going to get through this or is it just going to mock me when I DNF? "I just hope I don't disturb the whole campground", I make out from the tent in the next camp. "Too late", I think as I look at my watch…4:30am! I was planning on sleeping another hour and a quarter! Oh well, still out of the comfort zone… I snuggle back in the bag, but even though it feels great and I've slept well so far, more sleep is elusive, at best. Brrrrrrt! Again, the guy in the next camp…apparently he has gas! Hope I'm not close enough for the other senses to pick up any more…I hate these close quarter campgrounds! It's now 6:40 am and I'm heading for the S/F. Darn, I whip the tightest U-Turn a suburban can afford and head back to camp (4 miles away) for my water bottle. Not a great start. Back at the starting line, I meet up with Rusty Shelton. He is doing the 20K, I think, still suffering from IT band issues. He is very encouraging of my attempt at 50 miles as he has been for the past year since I've known him. It's good to see a friendly face. Now I see Paul Tidmore, another friendly face. I learn that Paul is running the 50K and is excited about Ginger's (his wife) first ultra. I laugh to myself, as I have run with Ginger and she is no newbie to the trails, training with Paul and others, as well as pacing at a few 100's. I am sure she will do fine. A few words from Bill Ross before the start, including a very touching tribute to Phil Spicer, Red's son, recently lost to the cancer monster (we're going to kill that monster some day, aren't we?). It is very still and cool (40 degrees on the suburbometer), and many are beginning to stomp around to try and warm up. Then we're off. Quite a crowd at first, I'm running with a couple of guys in the 50 mile race that are from Amarillo, but have never run a trail race or anything more than a marathon. They are quite entertaining, as one pronounces that "last night was my first alcohol-free Friday night since I can remember". We reach the first aid station quickly, although we are running very slowly due to the crowd. It's only 1.4 miles from the start and here is where the 50K runners turn for their first 6 mile loop as those of us doing 50 miles continue on the loop that we will grow to know so well before the day is over. Lynn taking in the sunrise… Alex doing some shining of his own (above) Dave Billman up front near Capitol Peak (right) Just before the aid station, I see Lisa Butler, of the NTTR West unabashedly sucking up to Red, always looking for some kind of an advantage… We greet each other, albeit more formally than she had just greeted Red and quickly split for our respective courses.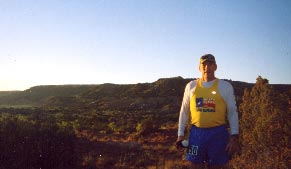 It is now getting light, and I am glad I elected not to carry a light. The trails thus far are very smooth and unchallenging, just the ticket for a very bright half moon-lit morning. The trail has opened up quite nicely, with only a few runners around. About 3 miles into it, I am running with Alex (I don't know his last name) and we meet up with Dave Billman. The three of us run comfortably throughout the entire first loop, taking in the scenery and the sunrise in the canyon…beeeeeeyuuuuuteeeeefulllllll (spelling compliments of John M)! I am taking queues from Dave (the pro) Billman and avoid 'making love to the aid station', although Alex seems to like to dawdle there. Dave and I pull out of aid station three (repeat of aid station 1) headed up the long rise toward 'dos locos senoritas' making our way through the last half of the first loop. We reach the short out and back which is 2 ½ miles from the s/f area and everyone seems to determine the need for some sort of ritual they are compelled to repeat each subsequent time they do the out and back (some reach up and touch the leaves from the overhead tree, some run up to the sign and quickly turn their backs on it), I chose to tap it three times with my left hand as I go around it. Back to the crazy ladies and up the trail to the toughest, and most visually stimulating part of the loop. A very helpful sign appears shortly announcing that we are ¼ mile from the s/f area and its all downhill, something I find myself looking forward to on each loop. Alex, Dave, and Lynn at the end of the first loop Spanish Skirts visible in the background Lynn under Hoo Doo Lynn with Painted Rocks in the background on Rio Grand Trail "Hey there's Lynn" I hear from the side as I move into the s/f area. Wow, the NTTR bunch is here in force and what a lift it is to have them cheering for me.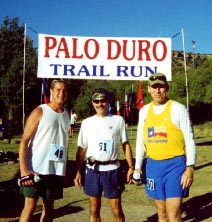 In and out of the s/f area, I find myself running alone for a couple of miles of the second loop. I am running well and feeling good, it seems I've worked out all the kinks, the moon is still up, but it is 9:20 and full daylight. The first part of the loop is enjoyable with walls of Spanish Skirts (red dirt vertical walls with horizontal lines of white crystallized rock running parallel from end to end) and good tree cover, ranging across the bottom of the canyon. Shortly, Alex and Dave are back with me and we make it through the second and third/first aid stations and begin the climb back up toward the 'locoladies'. We are at about 20 miles and I hear Alex complain that his legs are dead. I think I remember him telling me he hadn't trained much for this, with a long run of only about 16 miles (maybe I've mixed him up with someone else). He has been very talkative up until this point, but now the conversation that has kept me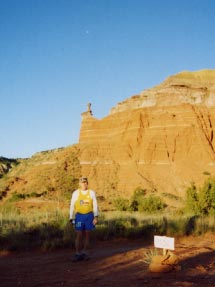 preoccupied up until this point has turned negative. He points out that I neglected to stop to walk up a hill…Oh, come on I say, grudgingly slowing to a walk. I realize he is right, but still, I didn't want to slow down. Runners begin to catch me with some degree of regularity, each time I think it is Dave or Alex passing me up, only to realize it is the faster 50K runners. The third one I see is Paul Tidmore. I cheer him on and he gives me more encouragement in return. "You're looking good" he lies, and pushes ahead. Shortly after Paul, I am overtaken by a new face. It is the lady I spoke briefly with at the start of the race. She has a heavy Eastern European accent and is running like a machine. She pushes ahead. I am again alone. Up past the crazy duo and on toward the s/f. More cheers from the seemingly growing party at which the NTTR bunch seems to be the center, way too cool! A quick refresher there and out on the third loop. It's good to be counting down, although it's a long way still to the finish. The heat now is inescapable and I am thankful to be back at the first part of the loop, the most prolific shade on the course. I realize that my crew (wife/mom) is MIA and wonder what may have happened to them. When I reach the second aid station (4 ½ miles from the s/f area), they are there. I pose for photos, ham it up with Red Spicer for the camera and chow down on all the cold stuff I can pilfer from the ice chest I had packed. Ensure, Gatorade, Mountain Dew, it just doesn't get any better than this. I peel off the shoes and scrape off the socks. A few baby wipes and my feet feel refreshed and resemble their original color…man it feels good to let the air dry them. Quickly fresh socks, re-don the Brooks Tresspass and I'm off for the last 8 miles of the third loop, feeling a bit tired, but resolved to get through this one. Throughout the remainder of the loop, I struggle to do the math on probably finish. I am not sure how long it took me to do the second loop, only that I was just under 5 hours at the halfway point. I couldn't figure out how it took me 5 hours, when I didn't think I had slowed down on the second loop. It took a disproportionate share of my mental capacities to focus on this and I chewed up the remainder of the third loop before I began to think much about the fourth. Back to the s/f, I slam another Ensure and some Gatorade. It's 3pm and I have 4 hours until cutoff. Wifey tells me that I am doing great and that I could slow down a lot if I want to. Hmmmm slow down? I walk to the one mile marker to check my walking pace. Hmmmm, I could just about walk the entire loop and still beat cutoff….waaaaaaaaaaaaaaaiiiiiiiitttttt! It's not just about beating cutoff, I want to do better than that. I pick it back up and am now running more than walking. I'm about three miles into the last loop and I think I am experiencing an apparition. A beautiful figure approaches me from behind and floats effortlessly past…"last loop" the figure sings out in a sweet, unlabored voice. Now I realize that I have just paid the price of slowing down, I just got passed for the first time by a 50 miler! She is tall, slender, wearing black on an unmercifully hot October day, and I can't keep up with her as she hammers away at the trail. Oh well, it's not about that… Lynn near Capitol Peak with Hoo Doo (center – red column w/large rock on top)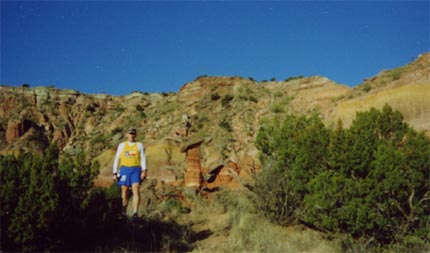 I pull into aid station number three and she's still there, but pulls out before me. I catch up with her and then she pulls away again. We play tag off and on, mostly off for the next three miles. In the last aid station before the crazies, we enjoy being doted over by a well endowed team of volunteers (some, more than others ). We are being shooed out of the station, as we are only two hours or so from cutoff. I linger a bit longer than the woman in black, and pull out all alone again as I hear someone say that there are only two behind me. Walk/running up the long rise out of aid station three, I find myself racing against phrynosomo cornutum (horny toad), who is scampering beside me. He looks me in the eye, smiles, and pulls ahead with plenty of extra power before crossing my path and disappearing into the prickly pear cactus. I trudge on past the Hoo Doos (tall columns of dirt/rock with a large rock sitting on top), beginning to think that if I stopped that I might become one myself. I can't tell if they are cheering for me or bidding me to join them. I have no plans on stopping, as I know now that I'm gonna finish this one and perhaps be DFL across the line, as it looked like they were getting ready to stop folks out at the next-to-last aid station. Last loop, looking for last aid station…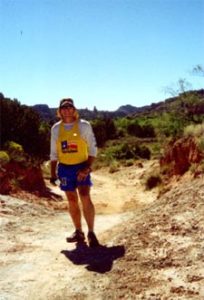 Return to Dallas dreaming of 1st 100???? As I approach the last aid station, dos locos are having a ball all by themselves. I go through, toss them my water bottle for a refill and charge into the out and back. One of the senoritas calls to me "when you get back you're gonna get laid". I cock my head and call back …"well, OK, but you two are gonna have to do all the work!" I meet up with woman in black on the out and back, she is still looking like a machine, perhaps only 2 minutes ahead of me. I am unsure about my return to the aid station, but I need my water bottle and go back to pay whatever ransom is demanded. Upon my return, I am presented with a green lei with a note that said "I got leid by dos locos senoritas" or something like that. What a hoot! Feeling pretty good, but slow, I move on, catching occasional sight of woman in black, but not gaining any ground. Up through Red's Ridge and Gilley's Gulley (or something like that) and shortly I'm staring at that blessed sign "only ¼ mile to finish, all downhill". I'm there! Yahoooooo! Moving excitedly, but with tired legs, I carefully pick my steps down the steep decent into the finish area. It is 11 hours and 25 minutes since the start and there are still a good number of NTTR folks, apparently waiting for me. The warm welcome is overwhelming. I raise my arms above my head and try not to stumble as I cross the finish line (DFL!*) I was ready after all! I find the nearest picnic table bench and plop down as Ava, my wonderful wife and Atha, my wonderful mother begin to tend to my immediate needs…Gatorade, Mountain Dew and Ensure. I am deeply touched as each and every NTTR member still there come by to shake my hand and congratulate me on my first 50 mile finish. Somebody says that Rebecca finished just ahead of me, but I was too out of it to realize until later that Rebecca was the woman in black and also was trailrunr from the Runner's World Ultra/Trail forum. I still can't believe I did it and I am working hard to figure out what's next (yes, I'm a junkie). I am very proud to be associated with a group like NTTR, as they were a terrific motivator and emotional boost before, during and after the race. Thanks NTTR. Thanks also to Ava, my wife of 26 years. She is not a runner and can't fathom why I want to do this stuff, but she puts up with me anyway (cause I'm so cute) and doesn't mind too much that I like to have all the "stuff" that goes with this crazy hobby…this race is for her. I love you, babe. Many thanks to the crew of volunteers that put on this race. I highly recommend it. It is a beautiful course and is very well run. Lynn Ballard Number 50!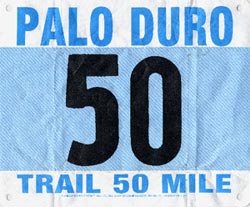 * I learn later that another runner finished after me, but not before the finish line crew had disassembled the flags, tents, aid tables, etc. Those still present quickly rose to the task and formed a human like of "flags" to welcome the real DFL runner in, with few minutes to spare. I settle for an honorable mention in the DFL competition!